Free Consultation
call 1-855-529-3501
Bruce Daley & Ken Byers are Experienced Criminal Lawyers with 15 offices in Ontario
---
We have won over a thousand cases in all areas of criminal defense law. We define "Total Defense" as having the utmost confidence that you have chosen the best law firm for your situation. You need experienced and committed lawyers prepared to exercise every avenue of defense available on your behalf.
Criminal Cases We've Successfully Defended
"A total defence requires experience, knowledge, expertise and attention. Every client receives it." -
Ken Byers & Bruce Daley
Don't be afraid to give us a call 1-855-529-3501 – We will always get back to you within 24 hours.
Frequently Asked Questions in Criminal Law
What is their experience?
Experience is essential and relates not only the field of law but to the geographical area where the charge is being prosecuted. Knowledge of the Judges, the prosecutors and the operation of the judicial system in each area is valuable.
Both Founding partners, Bruce Daley and Ken Byers (Toronto Criminal Lawyers), were called to the Bar in 1981. They both have extensive experience in defending all criminal charges and they have appeared in almost every Ontario Court of Justice in the Province of Ontario. In addition to criminal defence work, the firm also defends Extradition matters, Occupational Health and Safety prosecutions, Environmental Protection act prosecutions and professional discipline complaints proceedings. The team at Daley, Byers has the needed experience you are looking for.

Is their practice restricted to criminal law only?
Daley Byers is a defence practice only. We defend all criminal law charges. In addition to charges under the Criminal Code of Canada, we defend charges under the Controlled Drugs and Substances Act, Extradition matters, Occupational Health and Safety prosecutions, Environmental Protection Act prosecutions and professional discipline complaint proceedings. We are total defence only.

Are they familiar with the Court where you are facing charges and is that important in your particular case?
Daley, Byers have defended cases in almost every court in Ontario.

Will they give you the attention you need?
Your case and you will receive the attention that is required to guarantee the best defense. We take pride in our work and care about our clients.

Will they communicate with you in a timely matter?
Communication: We are available 24/7. All of our clients are provided our personal cellular numbers. We also report to clients on a regular basis to keep them apprised of the progress on their case. We understand that you are extremely concerned and a simple phone call can often alleviate your worries.

Will they accommodate your financial situation – payment plan?
We do offer payment plans. We get it. No-one anticipates facing a criminal charge and having to hire a lawyer. We do our best to spread out the payment of fees to accommodate your financial needs.

Are you going to receive top value for the money you spend?
Value: We are first to acknowledge that we are not the cheapest criminal lawyers. We do not want to be the "dollar store" of criminal lawyers. However, we will provide top quality criminal defence for a fair price. That is our reputation and we stand behind it.
What customers say about us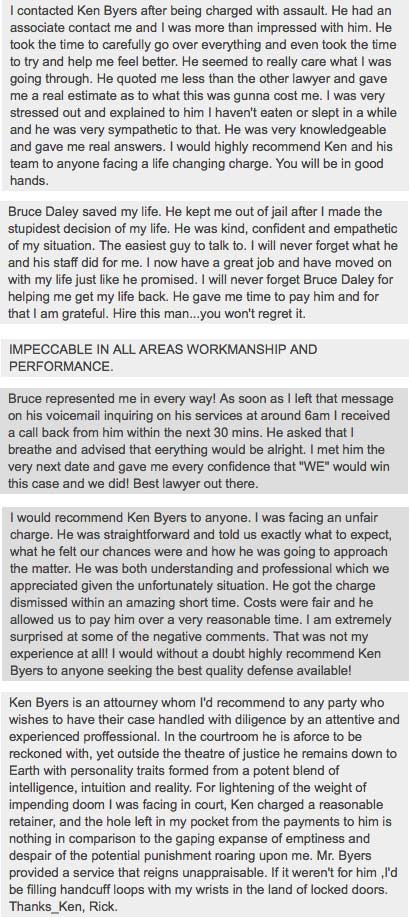 CRIMINAL DEFENCE AREAS OF PRACTICE
Daley Byers Barristers & Solicitors 
Daley, Byers Barristers & Solicitors are experienced and well respected criminal lawyers with decades of experience in the Ontario Courts fighting to preserve and enforce the rights of their clients.The two founding partners, Bruce Daley and Kenneth R. Byers were both called to the bar in April of 1981. The Daley, Byers firm also includes an extensive team of experienced criminal lawyers, research assistants, law clerks, resource staff and technical consultants. In addition the Daley, Byers approach uses state of the art technology to ensure that no stone is left unturned in the preparation of a total defence.
Experienced in Criminal Defence Law
Bruce Daley and Ken Byers are experienced in all areas of Criminal Law. This criminal law defence team has developed a reputation of being one of the preeminent firms in defending all types of criminal charges. They have precedent setting and reported cases in all areas of criminal law including DUI, over 80, impaired driving, drug charges, domestic assault, sexual assault, internet crime, break and enter (B & E) and theft. It is their commitment to provide you with the best defence available regardless of the charge. It is their job to win.
Winning is Everything
The firm approach is not restricted by legal precedent, in fact their innovative thinking often creates legal precedent." It is their commitment to provide you with the best defence available no matter the circumstances. In this profession "winning is everything".
Service Areas
We have fought and defended clients in almost every court in Ontario.
Past results are not necessarily indicative of future results.
Amount recovered and other outcomes will vary according to the facts in individual cases.
Mission Statement:
To be the best criminal defence lawyers that we can be, and to provide top quality criminal defence for each and every client
Values:
To provide exceptional service through experience, diligence and determination.
To ensure that our clients are part of the our best criminal defence process, a contributing part to our team.
To provide fair pricing – to provide value – a fair price for the best criminal defence.
Vision:
To see that each and every client is pleased and more than satisfied with the quality of service
So as to  guarantee that our growth is dependent upon a referral network of past clients.